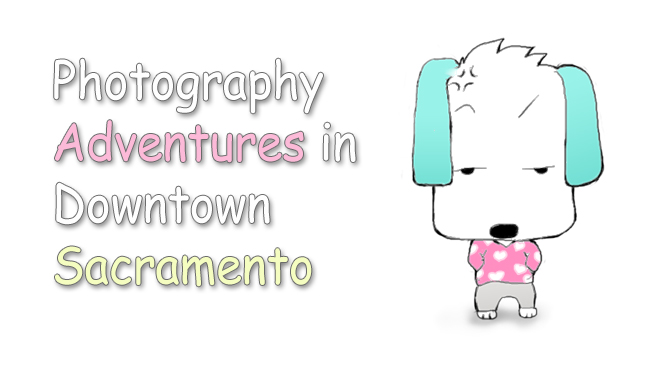 Welcome to the my 3rd photography adventure. If you haven't seen my other sessions you can check out the previous one here. This time I went to downtown Sacramento and took a relaxing stroll while taking some pictures. I was surprised to see the types of people AND animals that hang around downtown. Stick around to see my 4 favorite photos of this session.
Related: 10 Greatest Love Quotes of All Time By Dudes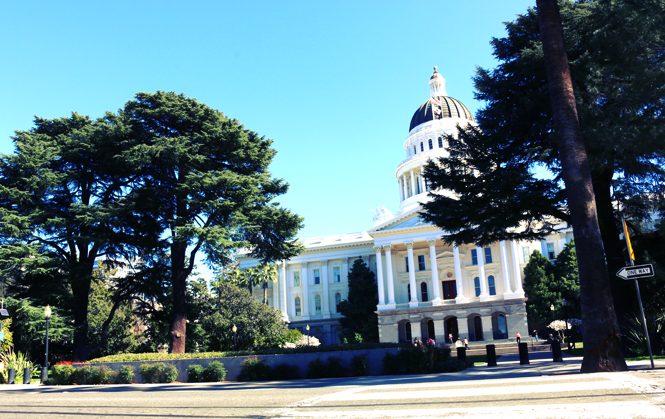 Downtown Sacramento – For those of you who do not know, Sacramento is the capital of California. The picture above is the capitol building. It is where Former Governor and famous celebrity Arnold Schwarzenegger used to hold his office. Sacramento is also the setting of the famous TV show "The Mentalist."
I decided to take some pictures of the go-to places in downtown and near downtown mostly because I don't go there often. And if you know me, I like doing these "photography adventures" because I feel like I'm discovering some cool and new interesting places.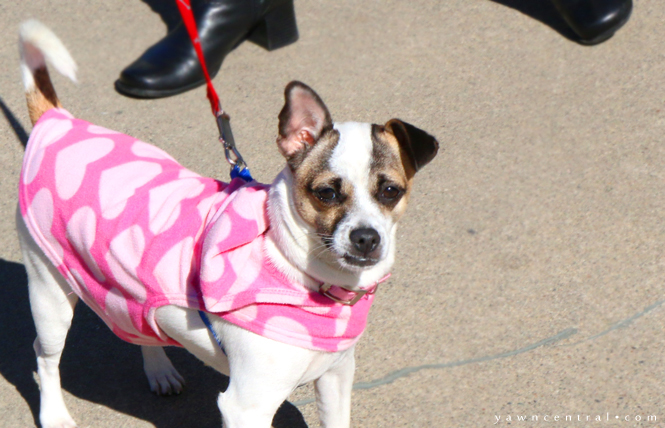 She made me wear this – I can't help but burst out laughing whenever I see this photo. I was there are the front steps of the capitol taking relaxing pictures and here comes this dog with a pink sweater. It is cute, no doubt, but look at this dog's face. It's like he is literally telling me "she made me wear this."
And if you look at the tension in his face, as if he hates everything it only makes it even funnier. I'd be pissed too if I had to wear a pink sweater. But then again I'm no dog whisperer, so I might be 100 percent incorrect (most likely).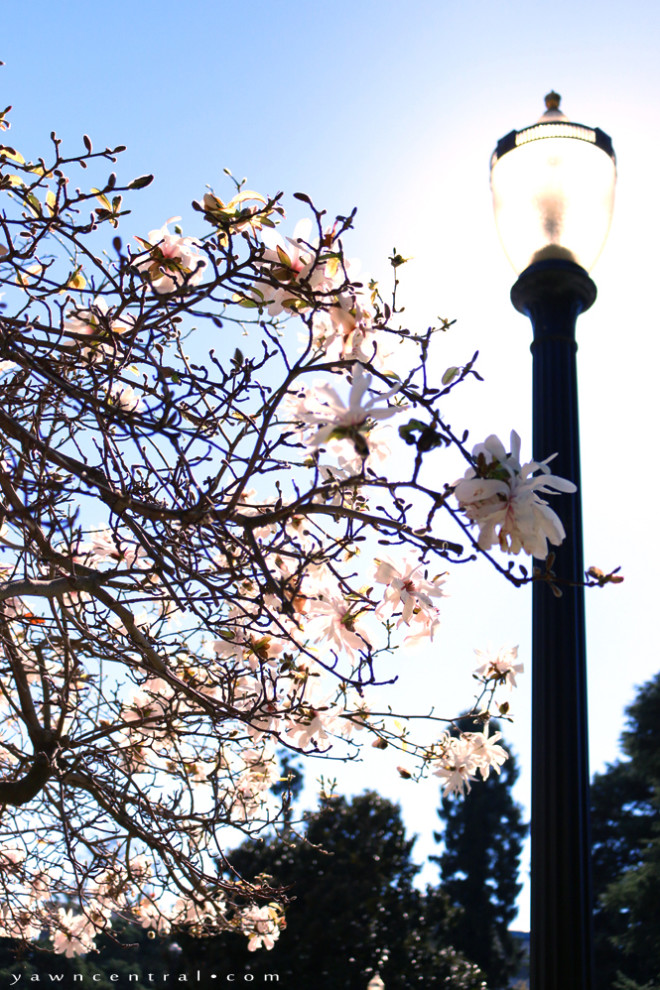 Oh hey sunlamp – After I took a picture of the dog the lady started looking at me. I think she didn't like me taking a picture of her dog. So she started staring at me and I was like a dear caught in the headlights – I couldn't look away.
So this picture is basically me pretending to take a picture of something to escape that awkward impromptu stare-off. Fortunately it actually turned out great, so here you go have a sunlamp. I call it sunlamp because the perspective of this picture makes it look like the light of the sun is coming from the streetlight. I could call it sunstreetlight, but I think sunlamp is catchier.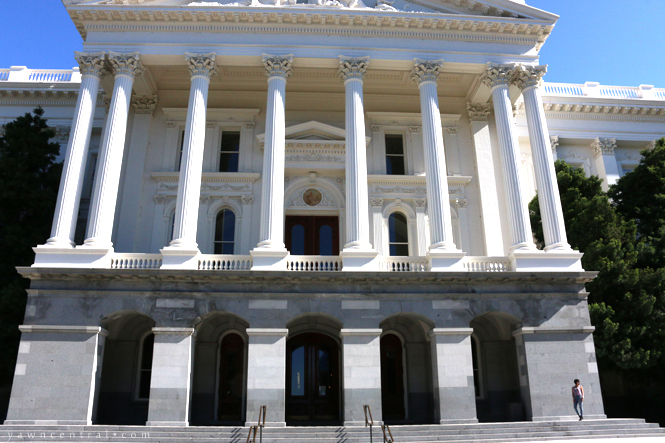 Actual Photographers – One thing I certainly did not expect to see are other photographers. During the past photography adventures I was so used to being the only photographer on the field. I was surprised to see other people doing the same thing. And I was like "Oh hey look at that actual photographers who are probably a million times better than me." I think there was even a guy making a rap music video. The photographer's assistant was even rockin' with the reflector so the rapper's golden teeth would have some extra glisten to them.
It was kinda fun spying on pro photographers, however. The lady to the bottom right of this photo is a model and there is a pro-tog taking her pics with a sweet telephoto lens in the crouch position. So I crouched as well and took this photo hoping his professional stance will rub off on me. Well, it didn't really work, but I'll keep crouching because I want to keep my knees healthy – partial squats are for "noobs."
FAVORITE PHOTO 1
---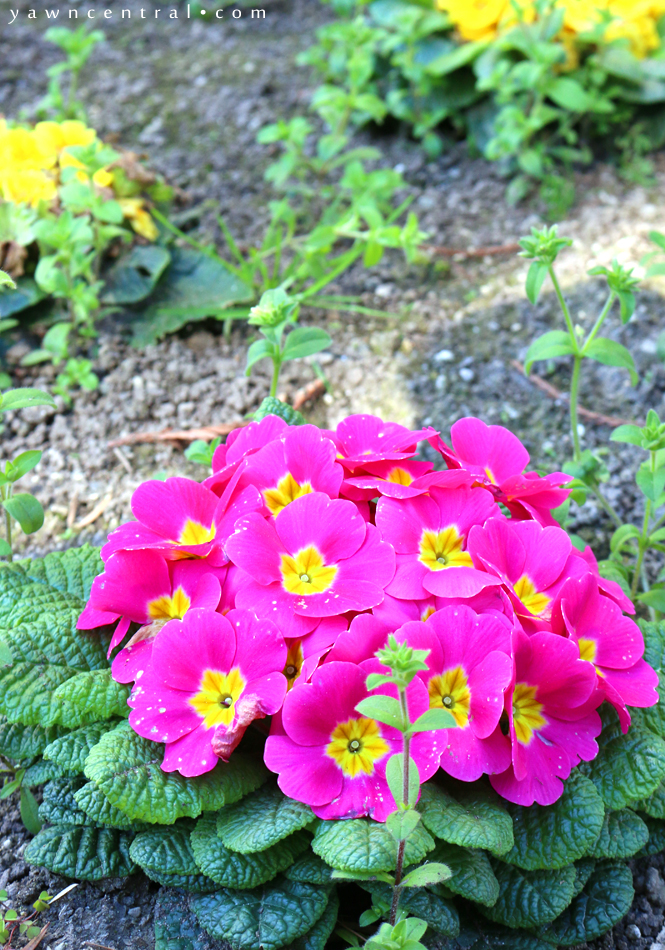 Golden Pink Flowers – After taking some photos at the capitol facade, I decided to look for some interesting photo subjects along the sides. There I found a garden with these cute little flowers, so I decided to take some macro shots. The results turned out great and you can see how crisp the photo looks. I attribute that to the fact that I set the camera down which minimized the blur when my hand moves. Also a really good tip to minimize blurriness is by setting the camera to a timer of two seconds so that the shot is not messed up by the movement caused when you press the shutter button.
Also I would like to note that I tried using the Fibonacci Ratio aka "The Golden Ratio" for this photo which is somewhat a more advanced version of the Rule of Thirds. Not sure if it I did it correctly. If there are any experts here, I would like to hear your feedback in the comment section. Any random tips would be greatly appreciated as well.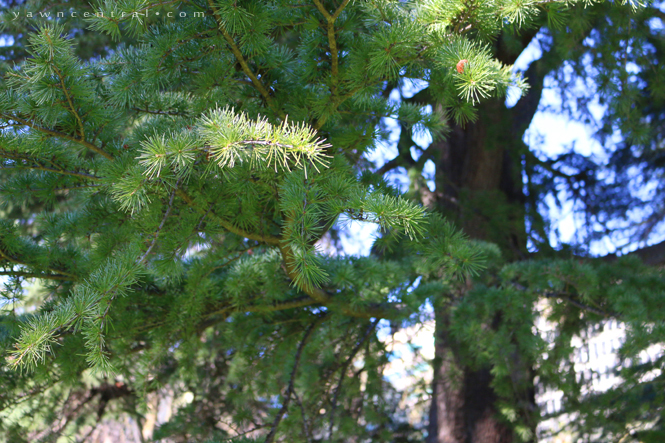 Supa fresh – I took this photo as I was about to head somewhere else. I wanted to take pictures inside, but unfortunately the place was closed. I literally took this photo one handed like a boss. The picture turned out better than I expected, so I guess I'm pretty clutch – Not. The next set of photos are the ones I took in Old Sacramento Near the river where I experimented with some awesome reflection shots!
Related: The 13 Destructive Habits of Unhappy People
Old Sacramento – Old Sacramento is pretty much the go-to place for whatever. They have some interesting restaurants, trails, and it's close to the iconic Tower Bridge of Sacramento. I decided to go here mostly because of the river which is a great place for me to practice my water reflection photography skills, and they have a sweet train station. It's not really a working train station but its cool none the less.
FAVORITE PHOTO 2
---
Old Sac Train Station – Even though the train is old, its still in pristine condition. They even sometimes have guys dressed in old school uniforms to complete the feel of the old days.
For this I used a tripod so that I could take a relatively long exposure shot which resulted in this photo. It does seem a bit overexposed but I wanted the station to emanate a similar atmosphere as platform 9 3/4 in Harry Potter. I also like how it captures the train and a sweet vanishing point.
I encountered some professional photographers, but they were just taking some wedding pictures. Nothing as exciting as the rapper music video at the capitol with some bling bling and reflectors.
HDR Dock – This photo I took with HDR enabled. For those of you who do not know what HDR is, it basically makes the dark areas lighter and light areas darker to even things out when there is way too much contrast. I decided to give this trick a try since the dock was very dark and I wanted to bring out the details of the wooden pillars on the right. It turned out okay. I'm honestly not sure whether I like this photo or not. I'll let the ducks floating by decide.
FAVORITE PHOTO 3
---
The King of Delta – Check that out – its the Delta King. It's the floating restaurant of Old Sac. It's a pretty fancy place. I remember I went there once for a murder mystery dinner. A murder mystery dinner is basically like a murder puzzle theater act that let the diners participate. It's pretty fun.
I like this photo because it captured the Delta King, the river, the wooden dock, and the restaurant above. It feels really nice looking at the picture because the actual experience was kinda bad. Basically I was too busy shooing the mosquitoes away so I don't get malaria. If you go there, just walk through the dock, but don't be stationary. Trust me I'm a doctor (no I'm not).
FAVORITE PHOTO 4
---
Pyramid of Pizza – Old vs new, modern vs old school, I like this photo because it created a very interesting juxtaposition between the two buildings. I wonder if these were built side by side to symbolize the clash between the old days, as symbolized by the pyramid-style building, and the modern era, as symbolized by the relatively modern-styled blue building.
After taking a trip through the capitol and the Old Sacramento it got me thinking about the dedication of the people who wanted to preserve history like the old train station. I think it's good to embrace modern technology, but that doesn't necessarily mean we should completely forget about our roots. I think places like Old Sacramento make our life richer and let's us know that life is not all about practicality and getting from point A to point B. It is also about what you leave behind. It is about the memories that you form as you spend time with the people you love.
Whether you like making rap music videos or dressing your dog up in ugly pink sweaters, it's really up to you put meaning into what you experience so that one day when you go back there, you think of good things. Thank you for joining me again for another relaxing photography adventure with MrCloud. Keep on yawning!
---
If you like dogs in pink sweaters share this on Facebook, Twitter, Google Plus or on the social media platform of your choice. If you find a rap music video set in the Sacramento capitol let me know ASAP. Also you can follow me on twitter for some positive personal tweets. If you want instant notifications on our recent posts consider subscribing to Yawn Central with the subscription platform of your choice.