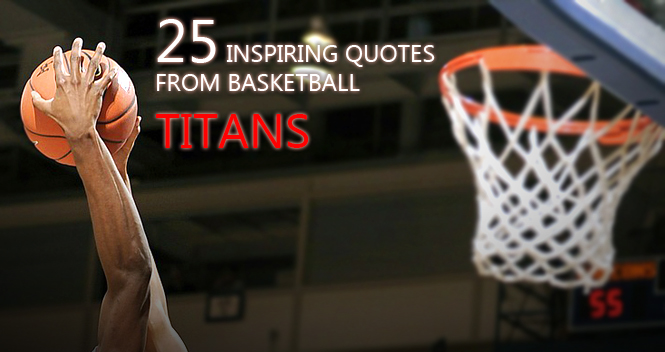 If you think about it basketball is nothing but a bunch of tall guys chasing after one bouncy rubber ball. However, it is more than that – primarily because of the sheer amount of talent and athleticism demonstrated by the greatest basketball players of all time.
Related: 12 Revealing Habits of Extremely Successful People
These individuals have made amazing sacrifices and ooze raw will-power which is why they are among the best of the best. I will show you a piece of their mindset. Here we bring 25 inspiring quotes from the biggest titans of basketball.
MICHAEL JORDAN
"GREATEST BASKETBALL PLAYER OF ALL TIME"
---
"I've failed over and over and over again in my life, and that is why I succeed."
"I can accept failure, everyone fails at something, but I can't accept not trying."
"If you accept the expectations of others, especially negative ones, then you never will change the outcome."
"Some people want it to happen, some wish it would happen, others make it happen."
"I've missed more than 9000 shots in my career. I've lost almost 300 games. 26 times, I've been trusted to take the game winning shot and missed. I've failed over and over and over again in my life. And that is why I succeed."
JEREMY LIN
"NBA RISING STAR (2012)"
---
"I'm not playing for other people. If I start thinking in those terms I would put too much pressure on myself. I play basketball because that is what I love to do."
"Sometimes you come up against a mountain and you end up making the mountain seem bigger than God."
"I was shocked cause I didn't even know that they made my jersey. I didn't know that they made it so fast, so when I saw it I was like, I had to look three times and I was like, 'Did they customize that?' And then I saw a couple of other ones and I was like, ok, they must've made them overnight or something."
TIM DUNCAN
"14-TIME NBA ALLSTAR"
---
"I enjoy jokes, smiling, and making people smile. I may be a little different, but that's OK, who wants to be normal anyway?"
"The time when there is no one there to feel sorry for you or to cheer for you is when a player is made."
"I'm surrounded by nothing but great people. I've been blessed with that, so really, I've got no choice but to be an all-around good person."
"I'm just going to play whatever game is in front of me."
LEBRON JAMES
"2-TIME NBA CHAMPION AND 2-TIME FINALS MVP"
---
"I like criticism. It makes you strong."
"You can't be afraid to fail. It's the only way you succeed – you're not gonna succeed all the time, and I know that."
"You know, my family and friends have never been yes-men: 'Yes, you're doing the right thing, you're always right.' No, they tell me when I'm wrong, and that's why I've been able to stay who I am and stay humble."
"I treated it like every day was my last day with a basketball."
KEVIN DURANT
"5-TIME NBA ALLSTAR AND NBA ALL-STAR GAME MVP (2012)"
---
"I don't know what I'm going to do tomorrow. I just know for sure I'm going to keep playing basketball."
"I'm just trying to grow. That's one thing I told myself is, Don't worry about who people say is the best player."
KOBE BRYANT
"5-TIME NBA CHAMPION AND 2-TIME NBA FINALS MVP AND 16-TIME NBA ALL-STAR"
---
"Everyting negative – pressure, challenges – is all an opportunity for me to rise."
"I don't want to be the next Michael Jordan, I only want to be Kobe Bryant."
"I have self-doubt. I have insecurity. I have fear of failure. I have nights when I show up at the arena and I'm like, 'My back hurts, my feet hurt, my knees hurt. I don't have it. I just want to chill.' We all have self-doubt. You don't deny it, but you also don't capitulate to it. You embrace it."
"The most important thing is to try and inspire people so that they can be great in whatever they want to do."
"If you're afraid to fail, then you're probably going to fail."
"I'll do whatever it takes to win games, whether it's sitting on a bench waving a towel, handing a cup of water to a teammate, or hitting the game-winning shot."
Please consider sharing this post on the social media platform of your choice. It lets us know we are creating content you are interested in. You can choose facebook, twitter, google plus, pinterest, tumblr or stumbleupon in the
Spread the Yawn
section below. Follow me @
MrCloud101
if you have any questions or just want to see some interesting positive tweets. Consider
subscribing
for instant post updates whenever a new post is released. I hope you enjoy your visit at Yawncentral.