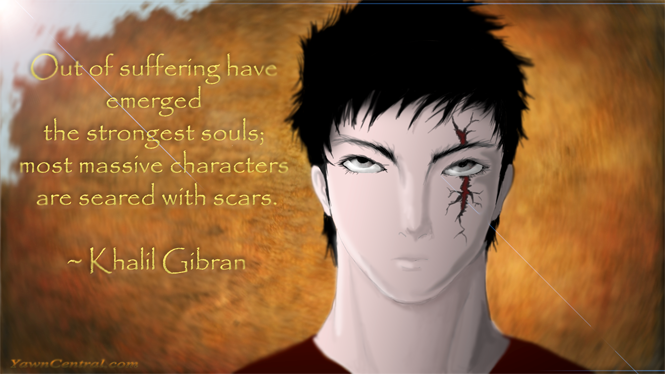 Sometimes you meet someone that has an inexplicably captivating personality. Its your intuition telling you there is something different about this person. Something about their expression, how they handle themselves, how they communicate and most importantly how they have an elevated perspective on life.
Related: An Eye for an Eye, A Tooth for a Tooth
Khalil Gibran said, "Out of suffering have emerged the strongest souls; the most massive characters are seared with scars."
Pain creates monsters
There is something about pain that shapes people. It has the power to reduce people to the lowest of the low. Wanting to simply escape the pain, many will not hesitate to lie, cheat, kill and destroy just to escape from the pain they are experiencing. Let's be honest, they never had it in them to overcome suffering so they turn into ash the moment they experience the slightest test of will life throws at them. Its almost as if pain is like fire that strips away all the facade and shows people for who they really are.
Pain reveals the great
There are these rare breed of individuals who despite pain and suffering, they choose to do the right thing. Pain in this situation, further solidifies their commitment to their principles. I personally believe that this is the true form of free will. They are capable of overcoming the biological and psychological tendencies of being human in order to hold on to what they believe is right. They do things not out of fear or anger or greed, but they do it out of their desire to create or share something positive to the world around them.
Artistic Inspiration
I wanted to draw something epic for this quote. For some reason it really resonates with me emotionally and I really felt like I could create something very interesting with this quote. The resulting art turned out okay. It did not turn out as captivating as I would have liked. I wanted to add some details to the skin, however, my Photoshop drawings skills are not developed enough to attempt such an ambitious project without eating up the rest of the day just obsessing over this and not getting anything else done for the website. I am certainly working on improving my painting proficiency.
If you feel like it, you can visit my deviantart page at mrcloudart.deviantart.com