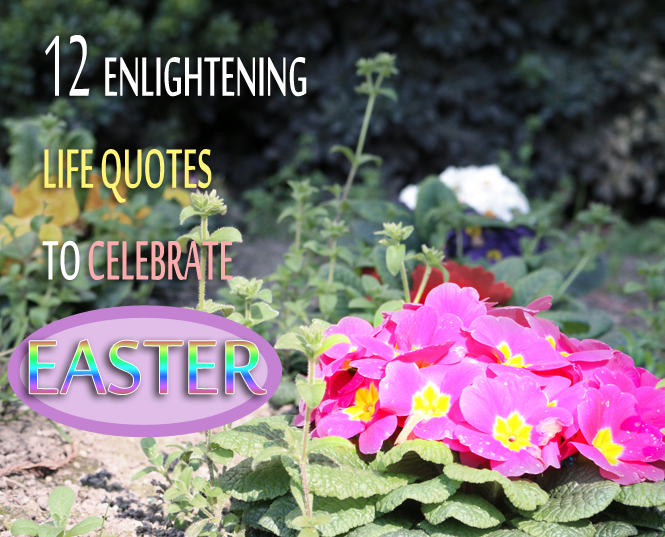 Many people have different ways of celebrating Easter especially in today's diversified petri dish of a culture. However, one cannot deny the fact Easter is about the celebration of life, and bunnies, but that would be one silly article if I made 12 quotes about bunnies.
Related: 10 Greatest Love Quotes of All Time by Dudes
Since bunny quotes are off the table, today I bring you 12 enlightening life quotes to celebrate Easter of 2014. So color-up your Easter eggs, eat your Easter dinner, and wear your Easter hat (if that's even a thing), and let's all have a Happy Easter!
1. LIFE IS ABOUT BEING PRESENT
---
"If you are depressed you are living in the past. If you are anxious you are living in the future. If you are at peace you are living in the present."
LAO TZU
2. LEARN HOW TO ADAPT IN LIFE
---
"Life is not always a matter of holding good cards, but sometimes, playing a poor hand well."
JACK LONDON
3. LIFE IS ABOUT RISKS
---
"To love is to risk not being loved in return. To live is to risk dying. To hope is to risk despair. To try is to risk failure. But risks must be taken because the greatest hazard in life is to risk nothing."
DAVID ARTHUR WARD
4. IN LIFE YOU HAVE TO CHALLENGE YOURSELF
---
"Challenges make life interesting, however, overcoming them is what makes life meaningful."
MARK TWAIN
5. YOU HAVE TO TRULY LIVE LIFE
---
"Death is more universal than life; everyone dies but not everyone lives."
ALAN SACHS
6. LIFE IS FAIR
---
"For everything you have missed, you have gained something else, and for everything you gain, you lose something else."
RALPH WALDO EMERSON
7. LIFE IS ABOUT THE IMMATERIAL
---
"The most important things in life aren't things."
ANTHONY J. D'ANGELO
8. EXPERIMENTATION IS THE SPICE OF LIFE
---
"All life is an experiment. The more experiments you make the better."
RALPH WALDO EMERSON
9. DON'T WASTE YOUR LIFE
---
"If you love life, don't waste time, for time is what life is made up of."
BRUCE LEE
10. DON'T BE A HATER
---
"Be so busy loving your life you have no time for hate, regret or fear."
KAREN SALMANSON
11. LIVE YOUR LIFE THE WAY YOU WANT IT
---
"A life lived by choice is a life of conscious action. A life lived by chance is a life of unconscious reaction."
NEALE DONALD WALSCH
12. LIFE IS ABOUT LOVE
---
"Life is about love. It's about whom you love and whom you hurt. Life's about how you love yourself and how you hurt yourself. Life's about how you love and hurt the people close to you. Life is about how you love and hurt the people who just cross your path for a moment. Life is about love."
MATTHEW KELLY
Related: The 13 Destructive Habits of Unhappy People
---
If you really like Easter you will share this on Facebook, Twitter, Google Plus or on the social media platform of your choice. Also the Easter Bunny will show on your house if you do that. I am super cereal! Also you can follow me on
twitter
for some positive personal tweets. If you want instant notifications on our recent posts consider
subscribing
to Yawn Central with the subscription platform of your choice.